Patriots
(series of 7)
2018, 122 x 183 cms, and up to 11cms deep
Mixed media (including brass, fabric, beads, coins, shells) on aluminium-mounted C-type photograph
About Statues
This series took as its starting point a series of contentious sculptures in New York, several of which have recently been the subject of debate for removal. They were of George Washington, J. Marion Sims, Alexander Hamilton, Christopher Colombus, a Pilgrim Father and two of Peter Stuyvesant.
"Locke 'dresses' the statues by attaching chains, beads, medals, real and counterfeit coins, cowries, ex-votos, talismans, ribbons, pieces of filigree, and more to the photographs...Locke's vainglorious, and sardonic additions mock the sanitized legacy of each celebrated worthy. Yet the Patriots are also cruelly alluring, and the series both demonstrates and parodies the fascination of lavish display, in art as in political life.

"Clues to each figure's implication in exploitation, brutality, and greed hang amid the cascading regalia. Metal figures of slaves, based on William Blake drawings, dangle from Washington, a slaveholder. A plaque bearing a passage from the Torah is affixed to the base of the Stuyvesant Square monument—the omnibigoted governor sought to block the landing of a boat bearing Dutch Jews from Brazil—while skulls, skeletons, and an "Indian-head" medallion are prominent on the statue's torso. Strands of blood-red beads and metal renderings of African sculptures and caducei are among the items that adorn Sims (photographed weeks before the monument was removed), who performed experimental gynecological surgeries on enslaved women. "Ornament and Crime" would be an apt subtitle for Locke's series...

"Since the 1990s, Locke has been based in London, and there a thwarted desire to dress actual monuments led to his first photo-based surrogates in 2005. Locke's Patriots are solemn, well-researched travesties. Even as he bedecks the statues with accumulations of trifles, it's evident that these men were not to be trifled with. This giving the devil his due is distinctive... Locke engages with each existing monument as presence and evidence."
From a review by Maria E Vetrocq, Brooklyn Rail. Click here to see full review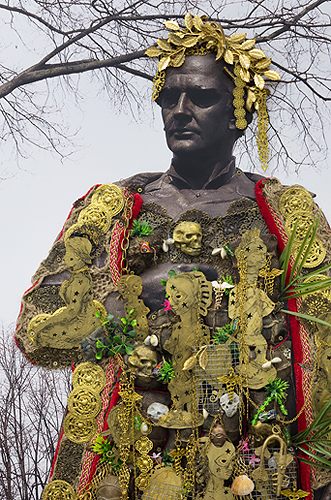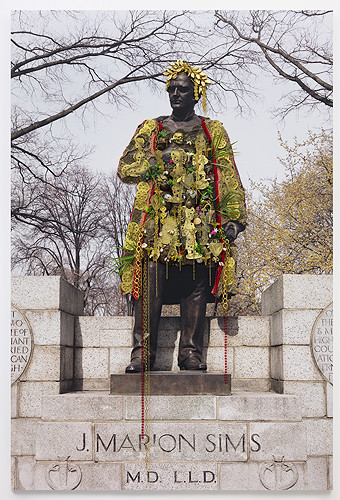 J. Marion Simms, Central Park, 122 x 183 x 10.5 cm. Photo by Angus Mills