Patriots
(series of 7)
2018, 122 x 183 cms, and up to 11cms deep
Mixed media (including brass, fabric, beads, coins, shells) on aluminium-mounted C-type photograph
About Statues
This series took as its starting point a series of contentious sculptures in New York, several of which have recently been the subject of debate for removal. They were of George Washington, J. Marion Sims, Alexander Hamilton, Christopher Colombus, a Pilgrim Father and two of Peter Stuyvesant.
Washington, Federal Hall statue decorated with replica Indian War medals, cut-outs of Pre-Colombian designs, silver dollars, images of tortured slaves, and a manilla – a slave trading currency – dangling from his forearm. The work explores the relationship between finance and power, and the way in which Washington's history had previously largely overlooked the fact that he owned 300 slaves. The portrait alludes to the ongoing process of cause and effect down through history following his presidency.
J. Marion Sims, Central Park includes images depicting the women he experimented on, as well as a African Luba carving, depicting a woman holding her breasts that traditionally symbolises a woman holding powerful secrets. He is covered in small hessian sacks alluding to both cotton and to magical talismans, cowrie shells, medical Caduceus symbols, the veve of Erzulie Dantor, and topped with a laurel crown on his head.
Together the works explore the complexity of opinion and perspective surrounding these historical figures and New York landmarks, overturning the notion that the debates surrounding the statues and the figures' roles in history have been settled. Theycontinue Locke's investigation into the idea of The Hero, and the role public statues play in the way national identity and history are formed, an element of his practice that he has been exploring since 2002. This interest was born out of seeing a toppled and discarded statue of Queen Victoria dismantled during his childhood in Georgetown, Guyana – an event that shaped his realization that the status quo is in fact fluid.
Click here to see a review of Patriots in Brooklyn Rail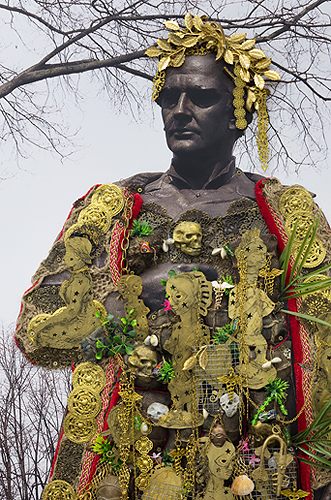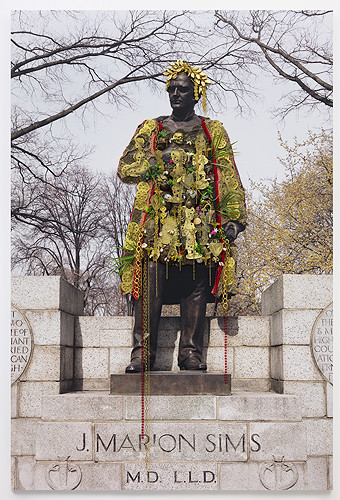 J. Marion Simms, Central Park, 122 x 183 x 10.5 cm. Photo by Angus Mills