"To the extent that such instantly recognizable symbolic forms provide shelter or housing for the conceptual dimension of his work, Locke is not a figurative artist so much as an artist hollowing out the iconography of sovereignty that has become so all pervasive that its figurative codes are overlooked." - Kobena Mercer, 2011
In 2004 - 2005 Locke made three large Queen's heads - one gold (El Dorado) one black (Black Queen) and one silver (Koh-i-noor). There was a nod to Warhol's series of screen-prints of the Queen, and to the many different coloured images of her which appear on British postage stamps - the only stamps in the world which do not print their country of origin, her profile being identitification enough.
The works are full of tension. The screws used to hold items in place are practical, but also allude to the nails used in African fetishes. The many plants, animals and insects that create the eco-system or landscape indicating the state of mind of the figure portrayed were inspired by Indian minature paintings of Maharajahs hunting on their land. The plastic toys utilised are made in China or other ambitious nations. It would have been impossible to make this work 15 or 20 years earlier, as such items didn't exist in such cheap profusion then. Globalisation has made Locke's materials readily accessible in every market across the world.
"I like how it looks. It is aspirational - in that I try to take the cheapest thing I can find and work it to make it look precious. The irony here is that the material I am using - such as the golden plastic toy weapons and jewellery - are trying to look expensive." - Hew Locke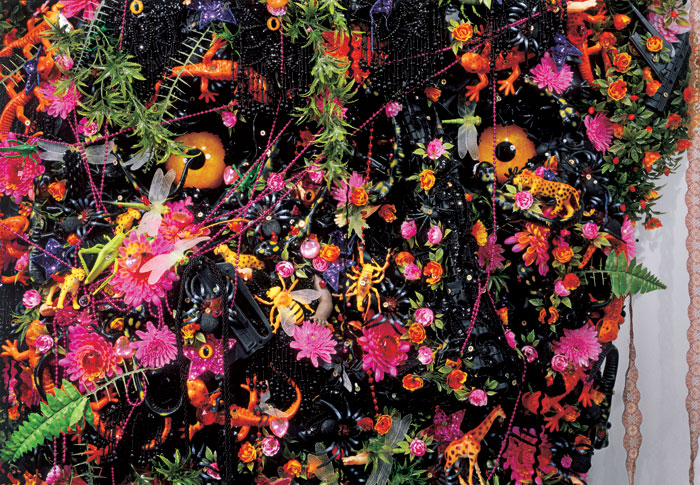 Black Queen (detail) 2004, approx 290 x 160 x 60 cm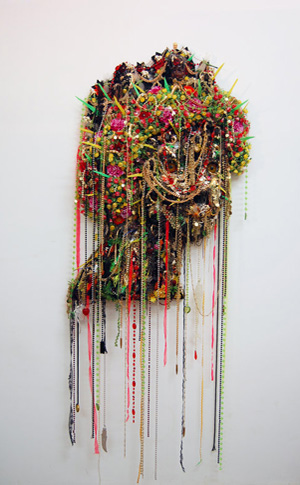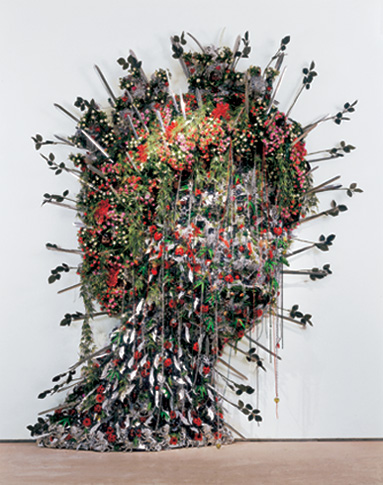 Medusa 2008, mixed media, approx 210 x 89 x 20 cm Koh-i-noor 2005, mixed media, approx 290 x175 x 60 cm