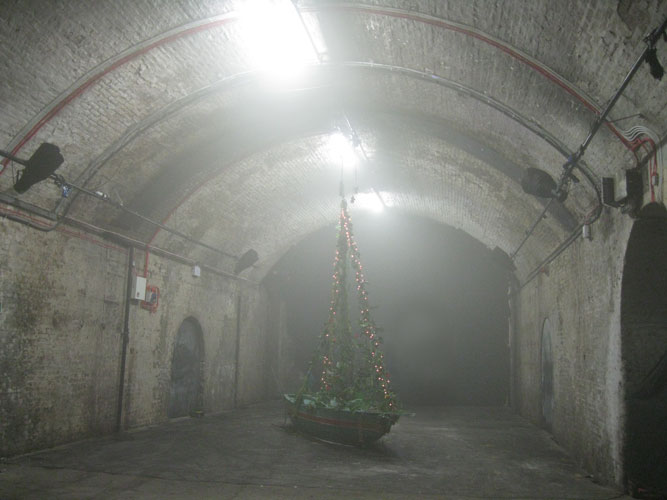 above - Day of the Dead version, 2012 in underground space approx 5m x 8m x 20m, Old Vic Waterloo Tunnels, London, UK
Commissioned and produced by Nomad 2012, Re-interpretation for All Hallows commissioned and produced by The Cultureship 2013.
For the Day of the Dead Festival, Locke built a simple boat designed so that a single traveller could sit in the dark and experience an imaginary voyage. The piece immediately evokes the final journey over the River Styx with a coin in one's mouth or pennies covering the eyes; or Ancient Egyptian funerary barques. He also imagines this boat as having been on a long journey, lost and abandoned up a jungle river, time has passed it by and nature is slowly taking over.
For the Thames Festival, Adrift took it's place in the Mariner's Chapel of All Hallows by the Tower, alongside the other historical memorials. It sails along with the other votive boats in the chapel, co-opting them and forming a little fleet sailing towards the altar.
below - Thames Festival version, 2013, All Hallows by the Tower church, London, UK. All photos this page © Indra Khanna